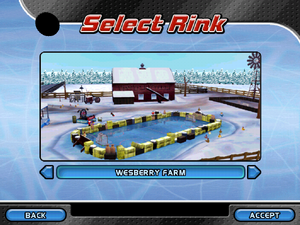 Wesberry Farms is one of the hockey rinks in Backyard Hockey series. Located on a farm (hence the name). It does not need to be unlocked to play.
Backyard Hockey
Edit
Backyard Hockey 2005
Edit
The rink is surrounded by hay sacks to prevent players and the puck from going out of play. The ice is built over frozen mud and the rink is surrounded by farm animals. These animals include: Chickens, Pigs, and cows. Sunny Day and Buddy Check are located by a blue house at the end of the rink.
If the away team scores a goal then a chicken will cluck. If the home team scores a goal then a cow will moo.