The Nutty Bananas are an NPC team in the Backyard Soccer series and the original Backyard Baseball game.
Baseball
Edit
In Backyard Baseball, the team's uniform color is yellow, and the team can be encountered in the postseason (Super Entire Nation Tournament and Ultra Grand Championship of the Universe Series).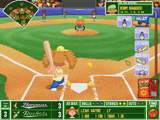 In the Backyard Soccer games, their colors are lime green (primary) and yellow-green (secondary).
Jay Green (Goalkeeper)
Lara Nunez
Howard Dawntey
Chandler Huggins
Courtney Valenchino
Vanna Steinman
Joella Minone
Isaac Drummond
Ad blocker interference detected!
Wikia is a free-to-use site that makes money from advertising. We have a modified experience for viewers using ad blockers

Wikia is not accessible if you've made further modifications. Remove the custom ad blocker rule(s) and the page will load as expected.