The Lucky Ducks/Lucky Duckies are an NPC team in the Backyard Soccer series and the original Backyard Baseball game.
Baseball
Edit
In Backyard Baseball, the team is called the Lucky Duckies, and it's uniform color is green. It can be encountered in the postseason (Super Entire Nation Tournament and Ultra Grand Championship of the Universe Series).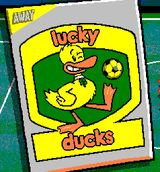 In the Backyard Soccer series, their jersey color is yellow (primary) and orange (secondary). Despite being named the "Lucky Ducks" in these games, their name is still pronounced "Lucky Duckies" by play-by-play announcer Sunny Day.
Marianna Rauf (Goalie)
Nancy Chin (Defender)
Pat Menkey (Defender)
Sonja Hagen (Mid Fielder)
Grant Phillis (Forward)
Shane Smith (Forward)
Omar Stephano (Bench warmer)
Floyd Quortez (Bench warmer)
Ad blocker interference detected!
Wikia is a free-to-use site that makes money from advertising. We have a modified experience for viewers using ad blockers

Wikia is not accessible if you've made further modifications. Remove the custom ad blocker rule(s) and the page will load as expected.