These are the fields and courts appeared in the Backyard Soccer, Baseball, Basketball, and Football games.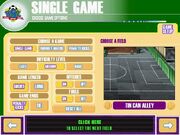 Backyard Football 2001
Edit
Dmitri Dome
Phillips Phield
Sandy Flats
Playground Commons
Dirt Yards
Backyard Football 2004
Edit
Cactus Gulch
Airport
Phillips Field
Chinatown
Playground Commons
Metro Division
Drive In
Dmitri Dome
Tropics 
Dirt Yards
Rocky Vista
Sandy Flats
Zoo (Unlockable) 
Backyard Soccer MLS Edition
Edit
Sandy Flats
Dirt Yards
Playground Commons
Cement Gardens
Eckman Acres
Vacant Warehouse
Division Fields (Only in Season Play)
Edit
Division B:
Parks Department Field No. 7
Parks Deprtment Field No. 8
Divison A:
Hillside Glen High
Glennmore Ridge High
Slough View High
Divison P:
Baranshire Prep
University State College
Smith Tech
World Cup Touranment:
Stadio Campionato (Translated 'Championship Stadium')
Estadio Estupendo (Translated 'Super Stadium' or 'Stupendous Stadium')
Footington Stadium (Likely a parody of Wembley Stadium)

Off the Wall Indoor Touranment
Backyard Basketball (Courts)
Edit
Dobbaguchi Arena
Crown Hill Rec. Center
McMillian Elementary
Pork Elemantary Multi Purpose Room
Scheffler Elementary Fieldhouse
Playground Commons
Queen County Municpal Courts
Sandy Flats
Smith Brothers
Backyard Basketball 2004 (Courts)
Edit
Broadside Barn
Queens County Municipal Courts
Sandy Flats
Back-Alley Ball Court
Dobbaguchi Arena
Smith Brothers Stadium
Rooftop Arena
McMillain Elementary Playground
Bling-Bling Brothers Circus
Tech State University
Humongous Rectangular Gardens
Backyard Baseball 2001 (Fields)
Edit
Eckman Acres
Playground Commons
Dirt Yards
Sandy Flats
Tin Can Alley
Cement Gardens
Backyard Baseball 2005
Edit
Starlight Orchards Drive-In (Day/Night)
Quantum Field
Humongous Memorial Stadium
Aquadome
Boardwalk
Desert Buttes (Day/Night)
Gator Flats (Day/Night)
Junkyard
Frazier Field
Wheeler Acres (Day/Night)
Sandlot Sluggers
Edit
Rooftops
Pablo's Sandlot
The Commons
Meadowbrook Field
Cul de Sac
Concrete Canyon
Garcia Manor
Quantum Field
Rookie Rush
Edit
Concrete Canyon
Garcia Manor
Quantum Field
Sunny Heights
Sandlot
The Commons
Meadowbrook Field
My Backyard
The Abandoned
Capitol Hill
Lakeside Estates'
Phineas' Fun Fair
References
Edit
Ad blocker interference detected!
Wikia is a free-to-use site that makes money from advertising. We have a modified experience for viewers using ad blockers

Wikia is not accessible if you've made further modifications. Remove the custom ad blocker rule(s) and the page will load as expected.