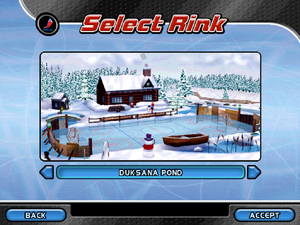 Duksana Pond is one of the hockey rinks in the Backyard Hockey series. The rink is a play on words "Ducks on a pond". This rink does not need to be unlocked and can be used for pick up games and used for home rink for season mode.
Backyard Hockey
Edit
Backyard Hockey 2005
Edit
A classic backyard hockey rink as it is played on a pond outside of a log cabin. There are kids building a snowman, ice fishing, and having a snowball fight. Sunny Day and Buddy Cheque are seen in front of the ice fisher during game time. The penalty box is a canoe.
When the away team scores then a duck (off screen) will quack. When the home team scores then a train horn is heard.
Ad blocker interference detected!
Wikia is a free-to-use site that makes money from advertising. We have a modified experience for viewers using ad blockers

Wikia is not accessible if you've made further modifications. Remove the custom ad blocker rule(s) and the page will load as expected.