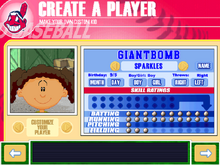 This is a feature in the Backyard Sports series where players get to create their own Backyard kid for their team. This feature can be accessed when the player is creating their team. The game shows a transparent kid who is usually sitting in the breachers. When this kid is clicked on, a menu will show where one can design their custom kid from appearance to stats. The custom kid is referred by their nickname rather than their name given from the player throughout the game.
In Backyard Hockey, your custom kids can be saved and used for single pick-up games just like the regular Backyard kids.
The custom kid's various appearances are limited to those specifically shown in the Backyard Sports game(s).
The original Backyard Football was the first game to include the Create-A-Player feature.
Backyard Soccer is the only game whose MLS editions did not include this feature.
Backyard Basketball is the first game to include "cheats" with the Create-A-Player, where Barry Dejay and Thor Herring can be created.
In newer games, it's called Create Custom Character like in the 07-10 era games.
Ad blocker interference detected!
Wikia is a free-to-use site that makes money from advertising. We have a modified experience for viewers using ad blockers

Wikia is not accessible if you've made further modifications. Remove the custom ad blocker rule(s) and the page will load as expected.