Backyard Sports Baseball 2015
Game Information
Developer(s)
Day 6 Sports Group, LLC
Publisher(s)
Fingerprint Network
Platform(s)
iOS & Android
Release Date(s)
January 8, 2015
Input Device(s)
iPhone & iPad, Android smartphone or tablet
Backyard Sports Baseball 2015 is a newly released edition of the Backyard Sports series as a handheld game app. The game has the pros as kids such as Andrew McCutchen, Clayton Kershaw, Miguel Cabrera, David Ortiz, Mike Trout, Robinson Cano, Chase Utley, 2014 World Series Champion Buster Posey and more. 10 of the original Backyard Sports kids also makes an appearance along with the pros. This also includes the return of some fields from the original games.
List of MLB Pros (18 Pros)
Edit
Paul Goldschmidt, Arizona Diamondbacks
Adam Jones, Baltimore Orioles
David Ortiz, Boston Red Sox
Jeff Samardzija, Chicago White Sox
Miguel Cabrera, Detroit Tigers
Mike Trout, Los Angeles Angels
Clayton Kershaw, Los Angeles Dodgers
Giancarlo Stanton, Miami Marlins
Carlos Gomez, Milwaukee Brewers
David Wright, New York Mets
Jacoby Ellsbury, New York Yankees
Chase Utley, Philadelphia Phillies
Andrew McCutchen, Pittsburgh Pirates
Tyson Ross, San Diego Padres
Buster Posey, San Francisco Giants
Robinson Cano, Seattle Mariners
Yadier Molina, St. Louis Cardinals
Yu Darvish, Texas Rangers
List of Backyard Kids
Edit
List of Fields
Edit
Boardwalk
Scrapyard
Steele
Webber Estates
Gamescreen shots
Edit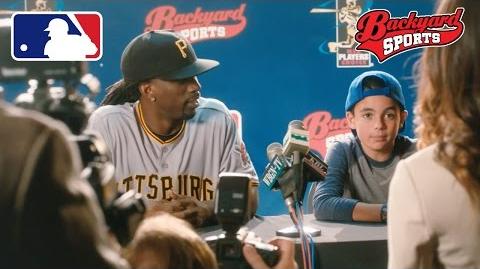 Ad blocker interference detected!
Wikia is a free-to-use site that makes money from advertising. We have a modified experience for viewers using ad blockers

Wikia is not accessible if you've made further modifications. Remove the custom ad blocker rule(s) and the page will load as expected.