Backyard Football is a game in the Backyard Football series. It was released in 2003.
Offical description
Edit
Grab the pigskin and hit the gridiron with your favorite pro stars! The fun of a schoolyard pickup game meets the NFL, when the Backyard Kids are joined by kid versions of the NFL's best! Kids control all the fun--they choose up sides, select a cool playing field and NFL uniform, and call all the shots. Players can guide their favorite stars down the field, sacking the quarterback or throwing a long bomb for a touchdown! It's an exciting sports gaming experience like no other, from the #1 interactive sports series for kids. Ages 7 and up.
This is another game where the backyard kids get their new looks. 
This was one of the last games to be in hand-drawn animation.
Just like in Backyard Hockey, Annie sounds like Mr. Friend.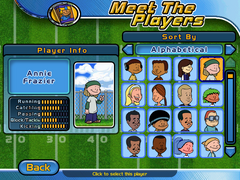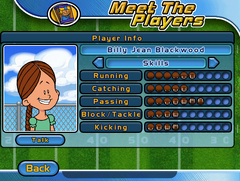 Ad blocker interference detected!
Wikia is a free-to-use site that makes money from advertising. We have a modified experience for viewers using ad blockers

Wikia is not accessible if you've made further modifications. Remove the custom ad blocker rule(s) and the page will load as expected.